Hearing Products
Hearing devices accommodate users with mild, moderate or severe hearing loss. Niagara Hearing & Speech Clinic helps patients select the correct hearing aids for their needs. There are many brands, styles, features and sizes to choose from. Narrowing down the best choice helps improve hearing health for the long term.
Hearing Technology
Modern Solutions For All Types of Hearing Loss
Thanks to advances in technology, hearing products are designed to be more compatible with our lives than ever before. In addition to hearing aids, there are a number of products that make living and communicating with hearing loss easier to manage, so you never miss a beat.
With hearing accessories, users can amplify sound, add wireless functionality, enhance microphone clarity and maintain damaged hearing aids. Some of the most common accessories are portable microphones and assistive listening devices.
More on Hearing Accessories
Hearing aids come in a wide variety of styles and offer a number of features at varying price points. The device you choose ultimately comes down to your hearing loss, lifestyle and budget. Our hearing aid styles guide can help you find the best match for your unique hearing needs.
More on Hearing Aid Styles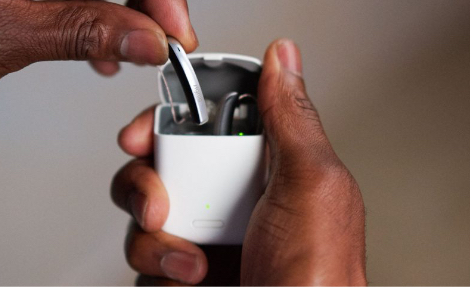 Hearing Product Guide
Curious About Hearing Technology, but Not Sure Where to Start?
With so many styles and options, it can be difficult to know which products will suit your needs. Our Consumer Guide to Hearing Aids provides an in-depth breakdown of the different types of hearing devices, as well as the technology available for all types of hearing loss.
Hearing Aid Manufacturers
Hearing Products Created by the Best in the Industry
When it comes to hearing loss, you need a device you can rely on to perform its best. That's why we carry products from manufacturers with a proven track record of exceptional quality. No matter your budget, lifestyle or type of hearing loss, we have a product to meet your needs.